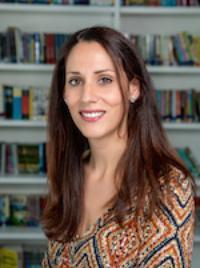 Ms Cristina de la Riva
Qualifications:
Diploma of Higher Education. Primary Teacher. Leon University BA Hons in Psychopedagogy. La Laguna University
I have been working as a Teaching Assistant in Belfast for four years, both in elementary and secondary school. The last two years I worked as a Special Educational Needs classroom assistant at a secondary school. I believe that no child should be left behind.I like encouraging children to become more independent and self - confident. I enjoy helping them to reach their goals, so I work hard to find the best way for them to learn. The sun and good weather of Marbella would allow me to rekindle my love for outdoor sports like tennis and beach volley, I love travelling the world, and discovering new places and different cultures. I have visited Indonesia twice and I have fallen in love with its people and its islands and landscapes. I cannot wait to go back. After five years working in Northern Ireland, I am delighted at the idea of coming back to Spain. I intend to make the most of this experience to grow both personally and professionally in the British International School of Marbella.