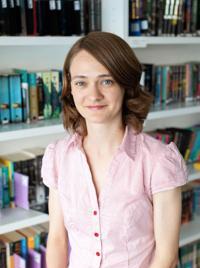 Ms Elizabeth Roberts
Position:
Head of Maths and Year 7 Mentor
Qualifications:
- Biomedical Materials Science (BMedSci) - Postgraduate Diploma in Education (PGDipEd) - Masters in Teaching Studies (MA) University of Birmingham
Prior to working as a teacher, I completed my undergraduate degree in Biomedical Materials Science (BMedSci) at the University of Birmingham. This multidisciplinary course involved aspects of medicine, human anatomy and physiology, materials engineering, biochemistry, biomechanics and statistics to name just a few. I am passionate about science and engineering as well as mathematics and I appreciate how mathematics underpins all these subjects. After completing my undergraduate degree, I completed a mathematics conversion course and Post-Graduate Diploma in Education (PGDipEd) to train as a mathematics teacher. In addition to this, a few years ago I completed a Masters in Teaching Studies (MA); I researched the topic of maths anxiety and completed an action research project in my school, with the aim of removing barriers to achievement. I have been teaching Mathematics for the last 11 years, at both state and private schools in England. I have taught Years 7 through to 13, including teaching A Level Further Mathematics and preparing students for university. At my last school I was Second in Department, with responsibility for Key Stage 3 Mathematics. I also led on designing schemes of work for AS Level Mathematics. I am very excited to be joining BISM now as Head of Mathematics. Outside of the classroom, I enjoy spending as much time in the great outdoors and being active. I am a Duke of Edinburgh leader and have also led a month-long expedition to Myanmar in 2018 through the World Challenge programme. What I love about these activities is seeing students grow in confidence by pushing outside their comfort zones and surprising themselves with what they can achieve; I am hoping to get involved in lots of different trips and activities here at BISM.