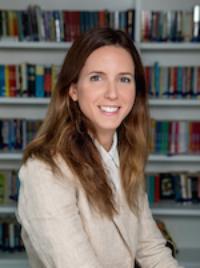 Ms Lourdes Diaz Chica
Qualifications:
Master's degree in Leadership and Management in Education PGCE Modern Foreign Languages Masters in Educational Management and Leadership
Having spent the last 8 years teaching abroad I am very excited to be back in my hometown, Malaga, and be part of such a unique school in the pearl of Spain, Costa del Sol. I have dedicated all my life to teaching as I believe I can cultivate young adults to be resilient, tolerant, fair, and good citizens. I have taught all year groups from Primary to Sixth Form in a variety of places and countries including 4 years teaching French, this is why I strongly believe we can learn from different world cultures. Teaching languages is the best way to learn about what goes beyond our own context. As a language teacher, there is no such thing as engagement. If my students enjoy what they do, they see meaning and therefore there is an academic performance that goes along that. I enjoy spending time with my students at break and lunchtime as I have the opportunity to talk to them about issues that involve them and build strong relationships. Away from school I love spending time with my daughter Evelina Maria, listening to music with her, and showing her the surroundings of Andalucia. I also enjoy the gym, paddle, going for long walks and going to the cinema.